KOOLKARE Breeze III-HFO
Air Conditioning Service Equipment for HFO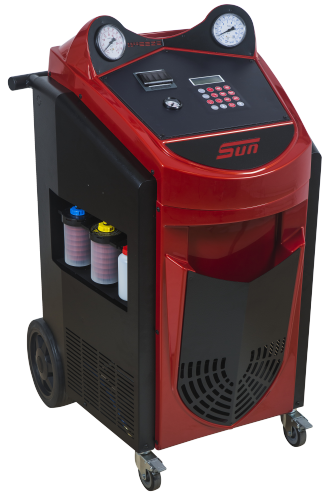 KOOLKARE Breeze III-HFO
Air Conditioning Service Equipment for HFO
The KoolKare Breeze III-HFO is an outstanding solution for all jobs with AIRCO systems with the new refrigerant HFO1234yf. This device also offers an extremely attractive price / service ratio.
The Breeze III-HFO performs all AIRCO service procedures independently. It satisfies the conditions of SAE J-2788 for high levels of refrigerant retrieval and purity.
The Breeze III-HFO has an extensive vehicle database.
Main Features:

Fully automatic supply of refrigerant, oil and dye, automatic air purge
On-board printer
Leak check during vacuum
Heated 12-ltr refrigerant cylinder
Heated oil separator
SAE2788 compliant (automatic air purge, at least 95% refrigerant recovery, at least +/- 15 g accuracy)
Oil weighing system 5 g
Units of measure g/kg or oz/lb
Comprehensive vehicle database with manual input for new models
Hermetic and refillable oil and dye containers
Robust design, with easy mobility around the workshop
Storage space for service hoses
Firmware update via PC / USB port
Alarm functions for: high pressure, cylinder full / empty, service interval, air purge, low
refrigerant level
Refrigerant management, password protected
Database update via USB port
Improved serviceability

Hermetic Refillable Cartridges

An A/C station equipped with hermetic cartridges offers the advantage of eliminating contact between the humidity naturally present in ambient air and the oil or dye, which are hygroscopic substances (that is, substances that easily absorb humidity).
The collapsible, refillable hermetic cartridges guarantee the high quality of the product charged and protect the internal components of the station from possible damage from oils and/or dyes of uncertain provenance. Moreover, many vehicle manufacturers recommend use of hermetic cartridges in their authorised repair shops

Improved Serviceability

Maintenance of the unit has been greatly improved with the Breeze III-HFO, there is now only one large dryer filter on the unit. This dryer filter can be easily accessed without the need to removing covers or plastics. Vacuum pump oil drain and refill can now be easily done without the need for taking off any covers etc. The weighing scale transit bolt and lock has been replaced with an easily accessible turn lock on the rear of the unit.
Expand
Collapse